Thanksgiving is a time for being with your family, eating delicious home-cooked food that will forever remind you of your childhood, and being thankful for the things you have and the people in your life. But what happens when mom accidentally burns the turkey? Or when dad turns away from the grill for too long to watch the winning touchdown and sets the kitchen on fire? Or when someone inevitably brings up that one topic they promised to never bring up again and – whoops, how'd this knife get in my hand?
Whatever the emergency, there's always someone working hard during the Thanksgiving holiday to make sure you and your family is safe (even from each other). Most firefighters, police officers, and medical personnel are required to miss their family meals and work through the night to save lives and keep everything running smoothly. Many of these emergency response workers are unsung heroes, and while they don't actively seek out gratitude for what they do it's important to remember to thank them for their hard work and dedication.
So what can you do to say "thank you"?
Often just saying those words, personally and sincerely, is enough to put a smile on anyone's face. After the chaos of a firefight or a run to the emergency room, it's easy – and oftentimes expected by employees – to get caught up in the moment and forget to thank those involved. Taking the time to go back and express your gratitude, whether verbally or through a card, can mean more than you'd expect.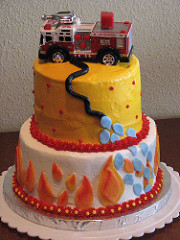 I've heard a lot of emergency responders, especially firefighters, answer this question with a slight chuckle and the simple request for food. Baked goods, tasty treats, boxes of pizza…what many people don't realize is that most firefighters work 24-hour shifts and therefore have to make their own food at the station. On a holiday that's centered around big, family style, home-cooked meals, donating something tasty can go a long, long way.
Of course, some organizations have a policy against accepting gifts and food from unfamiliar people. If that's the case, see if your local station belongs to an association that supports a charitable foundation. Donating to a cause they support is a great way to say thank you while also giving back to the community at large.
There's a lot to be thankful for this season, so make sure to extend your gratitude to the hard working men and women at your local fire stations, police departments, and hospitals. Also, look out for any holiday appreciation dinners being thrown in your community to help show your thankfulness and support.