The National Weather Service issued a tornado warning for Fort Lauderdale and the surrounding areas of Florida around noon on Wednesday. Not long after the warning was put in affect several EF-1 tornadoes touched down in North Broward and Coconut Creek. Several cars along Florida's Turnpike got caught in the turmoil and were thrown from the road, while a number of nearby homes and buildings suffered from damage to their roofs due to the strong winds.
While tornadoes in Florida are generally smaller and less severe than others, even these small windstorms can cause a great deal of damage to you and your home. Because these storms can come on very quickly with little to no warning, staying informed and being prepared is vital when it comes to tornado safety.
Stay Informed
Keeping an eye and ear out for changes in weather patterns can help you gain crucial time for preparation during a tornado. During inclement weather, keep tuned to your local radio and television channels for weather updates.
Listen to NOAA Weather Radio for the latest information on changing weather conditions and approaching storms and visit the National Weather Service website for updates and reports.
Know the Signs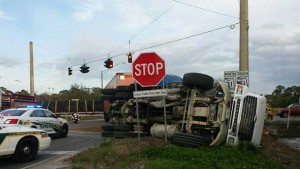 Although tornadoes can form and touch down with very little warning, there are a few signs you can look out for that suggest a tornado may be imminent:
A funnel formation in the clouds
A dark or green colored sky
Large, dark, low-laying clouds
Large hail
A loud roar that sounds like a freight train
If you see any of these signs, seek shelter immediately!
Find Shelter
While there is no completely safe place to go during a tornado, finding appropriate shelter is very important. Prior to a storm situation, make an emergency plan with your family so everyone is on the same page when a disaster actually strikes.
When you see the signs of a tornado forming, or receive a tornado warning from your local emergency services, find shelter immediately! If you don't have a storm shelter or cellar at home, go to an inside room on the lowest floor of your house such as a hallway, bathroom, or closet. Avoid windows! These can be blown in by the strong winds and the flying glass could cause serious injuries to you and your family.
Take cover under anything stable and sturdy, and cover your eyes either with a blanket, towel, or your hands to keep flying debris away.
If you're caught outdoors during a tornado and there is no available indoor shelter, try to avoid areas with lots of trees. Take cover under something sturdy is available and be sure to protect your head and neck.
For more information on finding and building shelter for a tornado, visit the tornadoes page on Ready.Gov.
Resources
Websites to follow for storm warnings and restoration after a tornado:
Articles: