5 Industry Secrets that Most Companies won't Tell You
The restoration industry is a dirty business, literally. Having spent most of their time knee deep in unsanitary water and sewage, many local plumbers and private restoration companies keep vital industry information close to the utility vest when communicating with customers.
On the other hand, at 911 Restoration we're all about giving homeowners a Fresh Start. In addition to making your home look even better than before, this includes explaining everything there is to know about the industry so that you and your family feel safe and in good hands. With your family's well-being and financial security in mind, here are 5 secrets from 911 Restoration that other restoration companies won't tell you:
1) When it comes to this equipment, size matters
There is a lot of different equipment used in the restoration industry, from air movers to infrared technology that detects mold and temperature changes from water damage. While we don't expect customers to know all of fancy jargon related to restoration, 911 Restoration believes it is important for homeowners to know about the differences in sump pumps. Many restoration companies, plumbers, and carpet cleaners sell and install sump pumps for customers, which are pumps that are used to pump water out of a water-collecting sump basin in the basement of a home. While this is great in theory, many companies actually end up selling the wrong size sump pump rather than one that matches the size of the homeowner's basement. In this scenario the basement would become flooded because the sump pump wouldn't be able to handle the workload. Make sure you know the size of your basement because frankly, size matters.
2) Cover your mouth & get this common home disaster covered
When it comes to insurance claims for a disaster, a general rule of thumb is not to tell your insurance carrier anything that isn't accurate. This may seem obvious, but misstatements can come back to haunt you. Always be honest, but don't assume something and state it if you don't know it to be true. For example, saying that your child may have flushed a toy down an overflowed toilet when you don't know this to be a fact might immediately get your claim denied for negligence. Instead, state any facts that you do know to be true like "my toilet overflowed and I don't know why" when talking to insurance. You're more likely to have your water damage claim covered, which can save you literally hundreds or thousands of dollars.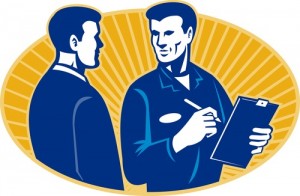 3) Become BFFs with this person in the restoration business
An insurance claims adjuster can be your best friend or your worst enemy depending on how you treat them. Don't be shy, introduce yourself and be friendly. Also, offer them a refreshing drink like some iced tea or a snack just like you would for any other guest that enters your home. Feel free to communicate with them as well and make sure to ask any questions that you might have. Being friendly with your claims adjuster can be the difference between a favorable insurance claim and one that pays out less on your loss. While water damage breaks your walls, buddy up with your insurance claims adjuster because this person has the ability to make or break your wallet.
4) It could happen to you, and it will!
You'd be surprised by how many homeowners believe that it could never happen to them, whether that is a home fire, flooded house, or structural damage from an earthquake. No matter what part of the country you happen to live in, there is more than likely a disaster that is common to your specific area. For instance, if you live in California there is absolutely no reason why you shouldn't have supplemental earthquake insurance (and fire insurance if you live in Malibu specifically) in addition to your homeowner's insurance policy. Likewise, homeowners in cities like Houston that are prone to flooding absolutely should carry a supplemental flood policy. Without additional insurance any losses from a local disaster would be entirely the responsibility of the homeowner, leading to hefty repair and relocation costs. Don't put the financial security of you and your family at risk, invest in supplemental insurance for your area today!
5) Don't under-"estimate" the power of this
If you're a home or business owner with water damage you're likely going to be bombarded with all kinds of new restoration terminology, so go ahead and grab a dictionary. Even better, do research online to learn specific industry language. For example, the terms "inspection", "estimate", and "xactimate" get thrown around interchangeably in the restoration industry but customers should know that these services mean very different things. For example, a free inspection usually refers to a visual inspection for mold, water damage or other destruction from a disaster that is visible to the naked eye. In some cases, a restoration company may also provide clients with a written "estimate", which can be free or have a fee. A written estimate outlines the amount of damage in dollars incurred, as well as how long it will take to mitigate. Once a restoration job is secured, an "xactimate" is done for insurance purposes to get the specific details of the loss documented. This service done by the restoration company is considered part of the repair process and must be paid by either the homeowner or insurance.
Information is power and the restoration industry is no different.  911 Restoration truly cares about all property owners and wants to make sure that all potential customers know the ins and outs of the business so that the process is as simple and stress-free as possible. For more information on the restoration industry and 911 Restoration in general, visit our blog section at 911Restoration.com.