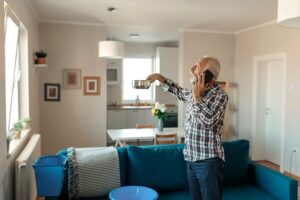 At 911 Restoration, we believe our job is to educate homeowners regarding the importance of proper home maintenance, especially during the holiday season. The last thing you want is a flooded basement, sewage backup, or residential fire ruining your festivities. So, in this post, we'll share some home restoration tips to keep your home safe during this period.
6 Home Restoration Tips to Keep Your Home Safe During the Holidays
1.    Prevent Moisture in Your Home During Winter
Moisture is one of the biggest causes of different types of water damage in properties. Not only can it stain walls and ceilings but also encourage mold or mildew growth, especially in your bathroom, kitchen, and basement. One of the main reasons for moisture inside homes is differences in indoor and outdoor temperatures, as many households utilize space heaters during winters. Since doors and windows are closed during this period, moisture can grow inside due to poor ventilation. You can leave the windows open for a couple of hours or run a fan in the basement to prevent this from happening. Installing a vent can also do the trick as it causes hot air to rise to the top and dehumidify the living space consequently.
2.    Keep Pipes from Freezing
A burst pipe is the last thing you need on Christmas Eve. However, depending on your region, you'll need to ensure that your plumbing is clear and protected during winter as low temperatures cause your pipes to contract, forcing them to break due to high pressure. There are many ways to prevent this from happening from inside your property. The easiest is to keep the water faucets running so water continues to flow through the system. You can also maintain the heat in your basement to above 50 degrees or call a home restoration service in your area to seal leaks or add insulation in all crawl spaces.
3.    Install Smoke Alarms
With fireplaces typically up and running during cold winter nights and more seasonal meals being made in the kitchen, the risk of a residential fire starting is greater during the holiday season. To detect fire and prevent damages, you can invest in a smoke alarm that senses the presence of large amounts of carbon monoxide inside living spaces. Smoke detectors contain a loud-pitched alarm that goes off anytime you overcook a turkey or in the event of a chimney fire.
4.    Clean Your Gutters and Sewage Lines
Winters often come with excessive downpours in most parts of the country caused by snow, rain, or hail. The excess water combined with dirt and debris can cause your sewage system to overflow and wreak havoc on your property. Blackwater overflow is the most destructive type of water damage that can affect anything on your property, including furniture, walls, floors, appliances, and documents, almost beyond repair. More importantly, it is a serious biohazard. It releases different pathogens that can make you sick, something you don't want during the holidays or any time of the year. To prevent this from happening, you can hire 911 restoration to pump the sewage, make any minor repairs due to damage caused by overgrown roots or debris, and clean the tank.
5.    Regularly Remove Snow and Ice from Your Roof
Removing snow from your car or ground can be a royal pain, so we can imagine how homeowners feel about removing snow and ice from their roofs. However, they can prevent roof leakage or a collapse caused by the excess weight from the ice dams by hiring professionals for the job. If you're wondering how much snow is too much, open and close your windows during the winter to see if there's more friction than usual. If there is, then it's likely due to excess weight on your roof. Ideally, you should remove snow from your roof after the accumulation exceeds 6 inches. While there's nothing wrong with taking the DIY route to clean your roof by grabbing a shovel or roof rake, we recommend leaving this dangerous task to professionals who have the expertise and equipment to remove the snow and ice safely and effectively.
Renowned Commercial Restoration Services – 911 Restoration
At 911 Restoration, we aim to help educate our customers about the different types of structural damage their properties could sustain during the holiday season. Of course, there's no way to predict random events. However, taking proactive measures to get your property assessed by professionals can help you avoid any disaster waiting to happen, such as a sewage backup or roof leaks during a snow storm. Our team of structural engineers and restoration experts can undertake minor and major repairs to ensure that you and your loved ones remain safe this festive season.
Feel free to call us and get in touch with the best home restoration service near you, guaranteed.