Our #SpotTheTruck Photo Contest for September is in full swing! We've loved going through all the photos we've already received and reading their clever captions, but there's always room for more! There are only 13 days left to submit your photos before our first round of winners are announced, so make sure to get in the game if you haven't already!
What's the

#SpotTheTruck

Photo Contest?
I'm glad you ask! Our remarkably colored orange and blue restoration trucks have been gallivanting all across the United States and Canada, bringing a Fresh Start to families who have been affected by water, fire, and mold damage. As a thank-you for welcoming our team into your home and community, we'd like to invite you to enter our monthly #SpotTheTruck Photo Contest to win:
$100

Grand Prize for Best Photo
Deadline & Eligibility
Current Deadline: September 30, 2015 – 12am PDT
Aug-Sept Winners announced October 5, 2015 – 12am PDT
Must be over 18 years old at Time of Photo Submission to Enter

No Purchase or Payment is Necessary to Enter Contest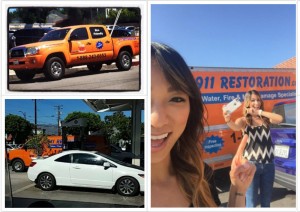 Submit your entry photo #SpotTheTruck @911restoration on social media, OR email it to contest@911restorationinc.com.

Make sure to follow our Blog, Facebook, Twitter, and Instagram pages for updates on this month's winners!
Thank you so much to all of our current and future contestants! If you still want to throw your hat into the arena, you have time! Visit the official 911 Restoration Spot The Truck page for more information on contest rules. See you out there on the road!