Here at 911 Restoration we take time to celebrate the sacrifice of the brave men and women who served in the military. If you've been on social media today you've probably seen all the thank you messages to the veterans in our lives, the homecoming videos that have you reaching for tissues, and all the beautiful tributes to our past and current service men and women. Days like Memorial Day and Veterans Day are fantastic opportunities to go out of your way to thank these courageous individuals, but rarely do we take the time to also listen to the lessons they can teach us.
Today, I had the great opportunity to sit down with our 911 Restoration co-founders to discuss their history in the military, and I was amazed by the stories I heard. After all our time working together, I had never taken the time to ask them about their experiences and thank them properly for their service. Their words of wisdom really hit home for me about just how much these experiences can affect not only the lives of our veterans, but the lives of us civilians as well. I want to take this moment to recognize the accomplishments of these men, and to express my gratitude to all the veterans here at 911 Restoration and beyond.
Celebrating Our Veterans
This lesson seems to be a universal one, as our fearless and steadfast CEO, Idan Shpizear, expanded on this idea, adding that "[the military teaches you that] everything is in your head. You can either believe you have to give up, or believe you can accomplish anything." Having served in the military from 1996-1999, Idan took from this experience the knowledge that a strong team is built through trust and support, a sentiment he continues to carry throughout his company. This philosophy leadership through support is what sparked our Fresh Start Attitude and is something we quiet literally would not exist without.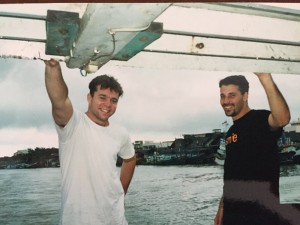 Idan shared with me the story of how he came to this realization. Towards the end of boot camp, he and an army buddy had been on a training mission where they were required to carry 120lb packs with them for three days across rough terrain. At one point, the duo slipped and fell down a steep and rocky cliff, packs and all. At that point, Idan remembers thinking they could either wait at the bottom of the cliff to be rescued or fight their way back to the top and finish the mission. Had he taken the first option, Idan would have never made it into his regiment where he would never have met his long-time friend and current business partner, Peleg Lindenberg. Had the two never met, they would have never moved to Southern California to start their very own company after leaving the military.
While expressing our gratitude towards our veterans, we so often forget to recognize the hardships they personally encountered. Sometimes the most meaningful thanks we can give is to promote a space for veterans and current service men and women to share what they learned and experienced. When asked what he thought would be the best way to show our gratitude to those who served and protected our country, Idan emphasized the importance of creating an environment of safe transition into civilian life where our veterans can be given recognition, support, and purpose as they return to such a different world. While agreeing with Idan, Justin also asks that people show their gratitude by supporting the Wounded Warrior Project.
From all of us here at 911 Restoration, we would like to thank all the brave men and women who have served and are serving their country. We are honored by your sacrifice and devotion.