Training Week is back at our corporate headquarters!  One thing I love about working with 911 Restoration is being able to interact with others from all over the country and to see the level of care and commitment we have for our fellow teammates. That's why this week has been my favorite week with the company so far.
Training week is a full introduction for our new branch location managers to 911 Restoration's systems, processes, and tool. It's a fun-filled week of with mitigation reviews and business development, group lunches and vicious table tennis battles.
Gabriel Lugo, our Senior Director for Franchise Operations, has been busy leading most of the training classes this week, and his energy only seems to go up with each session. "I love Training Week. Each class is so unique – I know it's easy to say that, but it's true – because we get people from all different types of backgrounds coming in for these sessions. Some with lots of experience, some with a little, and others with none at all. It's great to hear from everyone about what they've been through and experienced, not just for us to know where our new franchisees stand but also for the new branches to learn from each other. That's what we're trying to establish here: an environment of collaboration."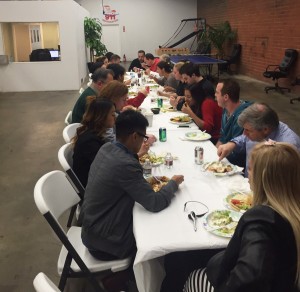 The best part is, this collaboration extends beyond the classroom and workplace as well. In addition to familiarizing our new branch owners with the company's policies and procedures, we're also taking the time to introduce them to 911 Restoration's unique and friendly culture. "This is our big 'Welcome Home'!" Our Vice President of Franchise Operations, Alin Cruz, explains. "They're our family now, and one of our biggest goals during Training Week is to make sure they feel welcomed into the company."
And nothing says 'welcome home' like big, family style lunches! This has been my personal favorite part of Training Week. The bonding that has happened at that lunch table between teammates, both old and new, has been incredible to watch.
"It's really important to me that we make this week fun and inviting." Alin continues. "Because it's not just about the business, it's about our culture and our Fresh Start Attitude. New franchisee owners see how we interact with each other and they carry that over to how they interact with their own team and their own customers. It's all a chain and it starts here."
So what's next for 911 Restoration? With this week slowly winding down, Gabriel is already looking forward to the next Training Week. "I have big, BIG ideas for the future! I'd really like to build a staged warehouse where we can really flood the room for mitigation reviews and mock water damage calls so new franchisees can actually tear out carpet and cut into wall and really make sure they know how to work with the equipment and customers. That would be awesome!" Like something out of the Universal Studios Back-Lot Tours.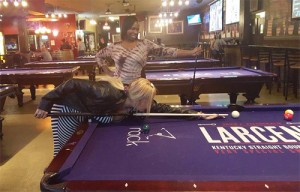 We'd like to thank Mike Martin and Kent Friedeman from Kansas City Metro and Tyrone and Sharna Williams from Greensboro, North Carolina for joining us this week. We have had a blast getting to know you over lunch and ping pong, and we can't wait to work with you to bring our Fresh Start Attitude out into the world. For our next training week in January we'll be welcoming the owners of our new Louisiana branch, along with several others – and I'm so excited to repeat this amazing process with them!