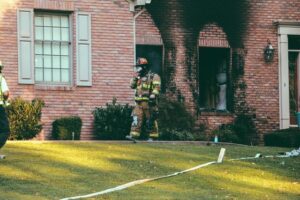 Smoke damage is extremely dangerous because if the smoke after a fire is inhaled, an array of health concerns are caused, including severe heart and lung conditions. Home restoration companies don't allow families to sleep in the house after a fire because regardless of the severity of fire, the damage is severe.
To enter the property after a fire, you have to make sure wear the right safety equipment. There are various safety precautions followed by home restoration companies to prevent further damage and ensure that the health of their team members and homeowners isn't sacrificed.
In this article, we'll tell you what smoke damage is, why it's considered dangerous, the safety precautions that restoration experts take, and how they can help you with fire and smoke damage restoration.
Let's dig in.
What Is Smoke Damage and How Dangerous it Is?
The physical damage of smoke that is caused by a fire is known as smoke damage. It's the structural and physical damage caused by the smoke and not the fire itself. Smoke damage is considered extremely dangerous because the microscopic particles of smoke can penetrate deep into the lungs and cause various health concerns.
From less severe and common conditions like runny nose and eyes to severe illnesses like lung and heart conditions, exposure to microscopic particles of smoke can cause an array of serious health concerns. In worst cases, it can also cause death.
What are the Safety Precautions Fire and Smoke Damage Restoration Experts Take?
While removing smoke and soot from the property after a fire, home restoration professionals use safety equipment to protect themselves from the aftermath of a fire. The first and most important smoke damage safety tip is to avoid breathing air contaminated by smoke odor. The personal safety equipment that professional home restoration experts wear includes coveralls, eye protection, gloves, proper footwear, hardhat, etc.
To enter a smoke-damaged property, home restoration experts wear a properly fitting respirator with a P-100 HEPA filter. Regardless of the severity of the residential fire, homeowners are not recommended to sleep in the house after the fire because it leaves behind dangerous chemicals that can be really harmful to human health. It's also not recommended for homeowners to let their pets re-enter the property after a fire.
Restoration experts open doors and windows of the house to ventilate the area. However, this procedure is not followed if smoke and ash can get in the house after opening doors and windows. If homeowners have to re-enter the house to obtain important documents, they must wear PPE, gloves, eye protection, etc.
Without adequate PPE, professional home restoration experts are at risk of inhaling and digesting harmful substances. Restoration experts throw food items that are near the fire because extreme heat can harm the contents. Expert home restoration professionals also avoid using leaf blowers because they can do more harm than good by putting ash into the air.
How Can Home Restoration Experts Help With Smoke Damage?
You might be able to remove mold if the contaminated areas are not larger than 3 by 3 feet. However, when it comes to fire damage restoration, there's no way it's suggested to be dealt with on your own. It's not just a complex restoration process, but a dangerous one that can result in lung and heart diseases.
Home restoration companies make sure to use industry-level equipment to remove smoke and soot from the house. They make sure not to use the equipment that can put ash into the air and bring in more smoke.
Sometimes, it's also important to test for Volatile Organic Compounds (VOC's) and particulates to determine the types of toxins present in the house. As soon as home restoration companies arrive at the location, they suspect the property to determine the level of damage that the house has suffered. Then, they come up with a safe restoration plan to restore the property and prevent further damages.
The goal of fire and smoke damage restoration is to return a property to its pre-loss condition. Smoke and smoke damage restoration involves removing any and all soot and smoke particles from the property, installing new carpeting, painting the walls, repairing damages, cleaning the property, and odorizing the house.
If in effors to put out the fire, the property experiences water damage, you can expect the restoration company to offer the immediate service of water damage restoration in order to prevent further structural damage and mold growth.
Searching for a Trusted, Trained, Experienced, and Certified Home Restoration Company?
If you are looking for a home restoration company that can arrive at your location within 45 minutes of your initial call, 911 Restoration is the one you should settle on.
The home restoration experts have mastered residential and commercial restoration and can offer the latest solutions to restore your property into something improved and better. Because of the advanced tools and equipment, the professional home restoration experts are able to get the job done right the first time, that too as quickly as possible.
The home restoration company carries relevant certification and is trained and experienced to work on complex restoration projects. As fire and smoke damage restoration is a risky process that can cause severe health conditions, the restoration company carries safety equipment. The best thing about the company is that they offer complimentary pre-loss planning.
Call 911 Restoration if you are looking for restoration services like fire and smoke damage restoration, sanitization, water damage restoration, mold removal, sewage backup cleanup, and disaster restoration.