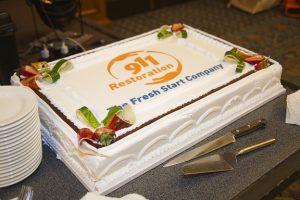 The Fresh (cake?) Start Company celebrated "The Power of Orange" during our 8th Annual Franchise Convention at the Westlake Hyatt Hotel last month in sunny Los Angeles, California.
This 3-day fun-filled event took place from Tuesday, April 5th – Thursday, April 7th, 2016 and included numerous speakers, educational round tables and workshops, as well as fun team-building activities.
For #ThrowbackThursday, 911 Restoration is here to share with our fans the fun that took place at this year's convention. However, like any great story, this tale is best told through photos:
Day 1 – Exhibiting the Power of Teamwork
Taking a play out of our 911 Restoration Corporate Headquarters playbook, Idan decided to include team-building activities in the form of a fun scavenger hunt at this year's convention. Talk about "Be bold, do something new!"
The games were great because they gave franchise owners, technicians, and corporate HQ employees alike a chance to work on our collaboration and communication skills while getting to know each other on a more "intimate level", to say the least. Facebook fans beware, some of these photos are NSFW (not safe for work).
During the team-building games, teams were awarded points for taking pictures of themselves in funny scenarios, answering questions about the company, and shooting silly videos. In a fun twist, we were also allowed to "challenge" other teams to competitions such as a "Compliment Battle." Yeah, we pull no punches here at 911 Restoration!
At the end of the games, we got to vote on our favorite funny photos and videos while viewing them on ballroom's big screen. The scavenger hunt also gave us all a chance to explore the beautiful grounds of the venue that hosted our convention and guests, the Westlake Hyatt Hotel in Westlake Village, California. All we can say is, what a gorgeous venue! Hopefully we didn't bother any of the other hotel guests too much while competing in the games!
Day 2 – Going All In for Charity on Casino Night
After a long day of educational round-table discussions, Day 2 also featured our Awards Ceremony, rolls upon rolls of delicious sushi, and a Casino Night evening event.
This year our fearless leader CEO Idan Shpizear was extra excited to announce the fact that we'd be spreading the Fresh Start attitude on Casino Night by supporting two non-profit organizations at the event, Brighter Children and Youth Business Alliance.
These two incredible non-profit organizations were specifically selected by Idan because they share 911 Restoration's vision, passion, and goal of making a difference in the world by helping others, specifically underprivileged kids.
Brighter Children supports education of underprivileged children in impoverished regions while the Youth Business Alliance focuses on bringing critical 21st century business skills and perspectives into the classroom by leveraging business partnerships and resources from the community.
100% of the proceeds from our Casino Night event this year went directly to the Brighter Children and Youth Business Alliance organizations. Our goal was to raise to raise $10,000 at the event and with a little bit of luck (and liquor?), we did just that!
I'm sure next year our goal will be $20,000, maybe more, but for now we're so ecstatic with how much we raised that we couldn't help but display some of our freshest dance moves.
Day 3 – Our Longtime Partners in Crime
After a late night of high stakes card games, sushi, and drinks (all in the name of charity of course), Day 3 began how any early morning should begin: with breakfast and coffee. Sufficiently full and caffeinated, the convention concluded with presentations from some of our favorite longtime partners including Google, Lowe's, Hertz, Sunbelt Rentals, and 4 Voice.
All and all, our 2016 Convention was a huge success. Through powerful presentations, team-building exercises, educational tools from guest speakers, round-table discussions and of course a little fun in the form of a scavenger hunt and casino night, we were able to exhibit how great the "The Power of Orange" truly is when we work together and think big.
See you next year in San Diego!