It's no secret that small businesses everywhere are struggling because of the coronavirus pandemic. From theaters to gyms and local restaurants, it might seem like there isn't much we can do to keep our favorite local businesses from going under. 
That's why 911 Restoration is excited to announce the #BetterTogether Challenge on social media. When we work together, we can make a difference in our local communities. In the restoration industry, we help our customers when they experience loss due to property damage, and we want to carry our Fresh Start philosophy into helping local businesses during this tough time.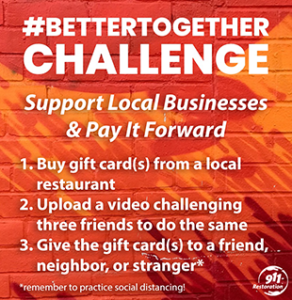 The small businesses in our communities need their loyal customers now more than ever. After all, locally-owned restaurants are what make our neighborhoods great. Even though we can't enjoy a sit-down meal in these establishments, there are other things we can do to help them out in this hard time, like buying gift cards or merchandise or ordering takeout.
Here's how to participate in the #BetterTogether Challenge:
Buy a gift card (or more than one gift card) from one of your favorite local restaurants

Post a video on social media explaining why you chose them, and tag three friends or local leaders to do the challenge with you

Give the gift cards to loved ones or friends to brighten their day – but remember to practice social distancing! You can mail the cards or drop them off at your friend's front door to limit contact.
We will be sharing as many #BetterTogether Challenge videos as we can on 911 Restoration's Facebook and Instagram pages to spread the love and positivity. Have fun, stay safe, and thank you for embodying the Fresh Start attitude!