2015 was a banner year for 911 Restoration. We brought in many new family members, helped a record number of residents and businesses gain a Fresh Start, and had more than a fair number of "interesting" commercial jobs come up since last January. To shine a spotlight on some of the more memorable moments of 2015, we asked our franchisee owners from around the country to share their favorite calls of the year. Needless to say, our year was far from boring and mundane! Here are a few of our favorite commercial stories from 2015.
Fighting Water with Fire(Fighters)
When Miki Oren, owner and operator of 911 Restoration of New Jersey, heard about a local fire station in his community that had experienced some severe water damage, the irony was not lost on him. "Normally they're fighting fire with water, but this time we got to fight the water with firemen!"
Miki and his team recognized the importance of what these firemen did every day to save the lives and homes of those in their area, and felt that it was their turn to pay it forward. Miki didn't accept a penny for their work and was satisfied with the knowledge that by helping save the firehouse they were helping these dedicated firemen get back to saving others – which was payment enough!
"These guys risk their lives coming to people's rescue, so we figured it was our duty to come to theirs," said Miki.
As communities become increasingly more connected, the need to form bonds between people and businesses grows in concert. 911 Restoration of New Jersey is thrilled about their continued relationship with this fire station and the men and women who serve there.
Raccoon Resort and Spa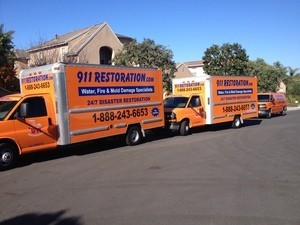 Everyone loves a little R & R, especially in a beautiful, private mansion. However, when Mike Martin and Kent Friedeman from 911 Restoration of Kansas City Metro responded to a call at said recently foreclosed mansion, they soon realized they were not alone.
While the outside of the home looked fantastic, it was very suddenly apparent once they stepped inside that this mansion had become a resort destination for the local raccoon population. While not technically a commercial job, the fact that raccoons had turned this home into their own resort and spa made it feel quite like hotel restoration "There was debris and the leftovers from many, many raccoon feasts absolutely everywhere in the home," Mike explains. Working closely with animal control to send the raccoons packing, Mike and Kent were able to turn the property back into a home for humans instead of rodents.
Despite how unsettling it must have been to show up for a job only to discover the residence wasn't exactly as vacated as they had expected, Mike and Kent kept their good humor, and still refer to this job as their favorite project since entering the restoration industry more than 16 years ago!
Secret Restor-Agent Jeff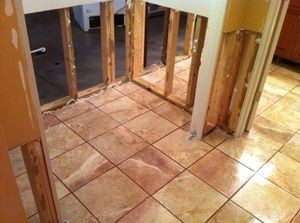 While Jeff Powell, owner of 911 Restoration of Santa Cruz, doesn't really care whether his martini is shaken or stirred, he does take a very personal interest in bringing a Fresh Start to every customer…whether they know it or not.
When Jeff encountered a church in his area that was having massive water damage problems but had no means of fixing them, Jeff didn't hesitate to step in a help. With the help of a friend who worked at the church, Jeff and his team gave the place a makeover, cleaning the carpets and replacing flooring where the water damage occurred. Not only did Jeff ask not to be paid, but most of the members of the church, including the owners of the building, didn't even know they would be receiving this divine restoration.
It's exactly this type of giving, philanthropic attitude Jeff and his team brings with them to every job site. Even though Jeff didn't ask for any recognition for helping this church in a time of need, this kind of caring and generous nature deserves appreciation. Jeff and his team were humbled by the opportunity to give back to their community.