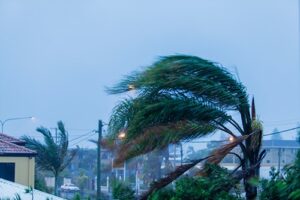 Hurricane damage can devastate your property and severely disrupt your life. In fact, according to the National Hurricane Center, Hurricane Harvey, the superstorm that ravaged Texas and Louisiana in 2017, caused $125 billion in damages. Even if you have hurricane restoration insurance, it can still take weeks to clean up the damage after a severe storm.
In order to efficiently protect yourself from a hurricane, you need to begin your hurricane preparedness efforts well before hurricane season. This preparedness plan should include an assessment of your property's hurricane risks and exposure, risk mitigation methods, and having hurricane insurance.
 Here are five proactive hurricane tips you can easily complete over the weekend.
Trim Your Trees
The strong wind gusts from a hurricane can uproot trees and scatter loose branches everywhere. This debris can damage your windows, roof, and more. Keep your trees pruned to reduce the risk of damage during a storm. Hire a local tree trimming service company to get the job done quickly. 
Clean All Drains and Gutters
 Though you should be routinely cleaning out your downspouts and gutters, it's especially important to double-check them before a storm to ensure they're clean and clear to avoid hurricane damage. A clogged gutter will block the flow of water, causing it to back up and leak through your roof. A leaky roof can cause expensive indoor water damage, ruining your possessions and putting your building's structural integrity at risk.
 Perform a visual inspection to ensure all water flows away from your home. Also, check all of your drains to ensure they're clear to prevent basement flooding. 
Take Before and After Photos
One of the most important steps you can take to protect your property against storm damage is to take before and after pictures with your phone to use in your hurricane insurance claim. Take photos of both the inside and outside of your property, including your yard, patio, roof, and siding. For further protection, take pictures of your vehicle in case it gets damaged too. 
Have the Proper Supplies Handy
Well before hurricane season hits, put together a hurricane preparedness supply kit and keep it in an accessible area of your home. Keep cash, a basic first aid kit, flashlights, a two-week supply of your prescription medication, personal hygiene products, and water bottles. This grab-and-go hurricane kit will come in handy if you're stranded during the storm. 
Know a High-Quality Disaster Restoration Company Near You
After the storm subsides, you need to start cleaning up the damage it left in its wake. Having the contact information of an IICRC certified emergency restoration company will greatly help in your cleanup efforts. Moreover, find a company that will work directly with your insurance agency to save you time and money.
Tips for Choosing Hurricane Restoration Insurance
In order to get the most out of your hurricane restoration insurance plan, you need to select one that is perfect for your needs and budget. Here's how to pick hurricane damage insurance that's right for you. 
Always check your current policy to ensure you already have sufficient hurricane coverage before the hurricane season starts.

Buy insurance for your property based on its replacement costs. This will offer more protection because the costs of rebuilding and restoring your home or commercial building can often exceed market value.

Consider investing in flood insurance in addition to hurricane insurance. If you already have a policy, double-check the expiration date and see when it needs to be renewed. Call your insurance provider to purchase a flood insurance plan or renew your existing plan.

Know if your policy offers hurricane deductibles. Educate yourself on how deductibles work and buy one that caters to your budget and needs. They are generally one to five percent of your dwelling coverage amount.

Check to see if your policy covers wind damage. If not, purchase windstorm insurance.
By using these tips, you can buy a hurricane damage insurance plan that covers the damage from a severe storm. 
Trust the Experts at 911 Restoration 
If your commercial or residential building has been damaged by a hurricane, contact the disaster restoration specialists at 911 Restoration. We have the tools and training to quickly and effectively restore and rebuild your home. We will even work with your hurricane insurance company to make sure you get the most coverage possible after a disaster.
We are an IICRC certified hurricane restoration company that specializes in water damage restoration, mold removal, emergency cleanup, and sewage backup cleanup. 911 Restoration always offers top-notch service with a smile and all our branches across the country are available 24/7 to help you when you need us the most. 
With a swift 45-minute response time, we'll be at your door within the hour. Trust in our team today to provide you with your Fresh Start after a hurricane.